ABQ Sunport Taking Proactive Steps to Mitigate Spread of COVID-19
UPDATE: Governor Lujan-Grisham Issues Executive Order for Travelers to Self-Isolate/Quarantine
As of June 1, 2020, State of New Mexico Executive Order 2020-054 directs individuals flying into New Mexico to self-isolate or self-quarantine for a period of at least 14 days from the date of their entry into the state or for the duration of their stay in the state, whichever is shorter.
Please note: This Order's direction to self-quarantine does not apply to persons employed by airlines, those performing public safety or public health functions, military personnel, federal employees, those employed by a federal agency or national defense contractor, emergency first responders, health care workers, those arriving in the State pursuant to a Court order, and persons traveling into New Mexico to conduct business activities.
Business Travel
If non-New Mexican residents fly into New Mexico for a brief business trip and adhere to covid-safe practices, they are allowed to fly back home after their business is complete.
New Mexican residents flying back to NM after a business trip are still required to self-quarantine for at least 14 days.
If you have more specific questions, we recommend calling the NM Department of Health COVID-19 Hotlines at 833-551-0518 or 855-600-3453.
Click here to view the full public health order.
We're Taking Proactive Steps to Mitigate the Spread of COVID-19
Since the early stages of the outbreak overseas, the Albuquerque International Sunport has taken preventative steps and established procedures to mitigate the spread of COVID-19 both inside the terminal and into our community. The safety of our passengers, staff and community is our top priority.
PLEASE NOTE: Changes and cancellations to flights are frequent and ongoing. Please check directly with your airline for up-to-date info.
Enhanced Cleaning and Sanitizing
Our custodial crews have implemented enhanced cleaning and sanitation procedures with a focus on high-touchpoint public areas, such as handrails, elevator buttons, water fountains and seating. We have also increased the cleaning schedule of restroom facilities, added hand sanitizer stations and are paying special attention to ensuring those stations are maintained.
Meet Breezy One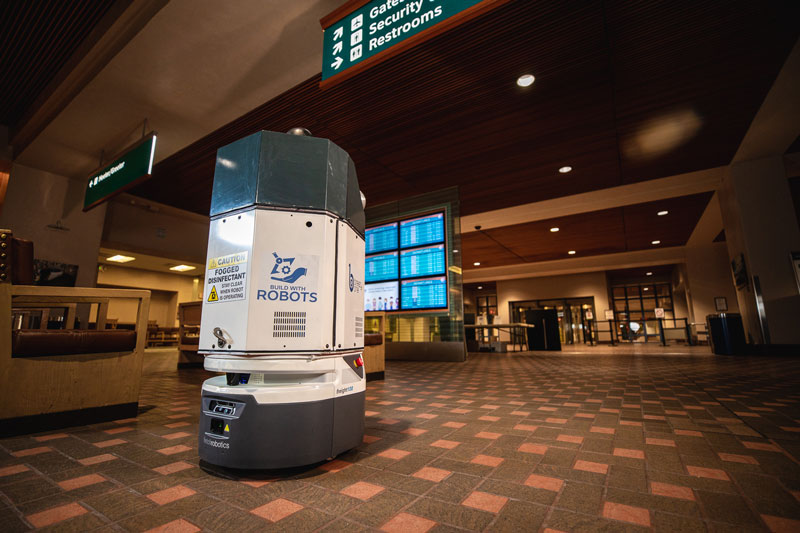 The Sunport co-developed a specialized disinfecting robot system called Breezy One. Designed to protect employees and passengers from both harmful pathogens and cleaning agents, Breezy One safely and effectively decontaminates the terminal every night, using an environmentally-friendly disinfectant fogger system. This provides an additional layer of protection against COVID-19.
COVID-Safe Practices
Face coverings are required for passengers and staff in all public areas
Sneeze guards have been installed on counters
We have implemented social distancing floor decals and informative signage throughout the terminal and make regular PA announcements reminding people of Covid-safe practices.
Seating has been reduced or spaced apart
Daily temperature checks are required for staff
NM Dept of Health Station
We remain in close contact with local, state and federal officials, including the New Mexico Department of Health, who has a station setup immediately after passengers exit the gate area (in the meet and Greet area). They are providing the most up-to-date information, additional resources, and recommendations for self-isolation.
TSA Checkpoint
Place small items such as wallets, keys and phones inside bags rather than into bins
TSA is now allowing up to 12 oz. hand sanitizer in carry-on bags
TSA is accepting expired state licenses with an expiration date of 3/1/20 or later
Tips for Staying Healthy if Traveling
PLEASE NOTE: We do not recommend traveling unless you absolutely have to. If you feel sick, please STAY HOME.
practice routine, rigorous hand washing
maintain at least a 6 foot distance from others
wear a face covering
avoid touching your eyes, nose and mouth
keep your belongings and environment clean
cover coughs and sneezes with bent elbow
check the CDC's travel health notices for up-to-date info
If you are picking someone up from the Sunport, meet them at the Arrivals curbside area instead of going inside the terminal
Modified Concessions
Some of the Sunport's bars, full-service restaurants and shops are temporarily closed to adhere to the State's public health orders. Fast food and pre-packaged take away items are still available and any seating within the food court area has been adjusted to accommodate the 6 foot rule. Click here for a full list of hours and accommodations.
Resources